Fall Conditioning for Sprinters and Jumpers - 8 Weeks
$24.99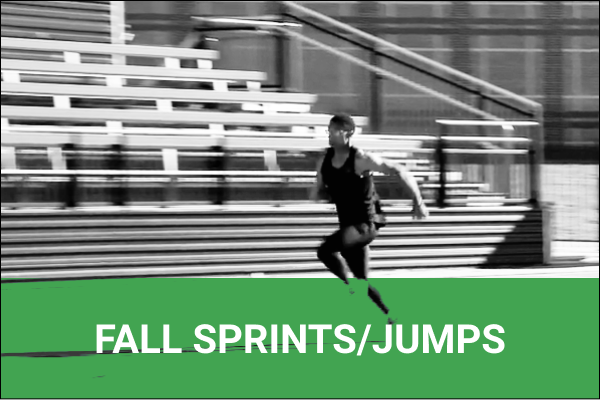 The Trackwired Fall Conditioning for Sprinters and Jumpers is an 8 week / 6 days per week general preparation plan that's focused heavily on conditioning.  It includes numerous interval training workouts, core routines, acceleration work, plyometrics, med ball work, hills, stadium stairs, mobility work and warm up / cool down routines to help you create an excellent level of fitness to progress in all sprinting and jumping events.   
The program starts off with a 4 week build that transitions into a recovery period in the fifth week. During the recovery week the athletes total training volume will decrease for the week and they will test a standing long jump, overhead back, and 30m sprint.  After the recovery / test week there will be another 3 weeks building, where workouts will continue to progress in intensity.  After the total of 8 weeks there is an optional 9th week added where the athlete will duplicate the tests of the 5th week in order to track their progress.  Overall this is very much a conditioning intensive workout for the sprinter/jumper that wants to put in some serious off season base work to be able to handle more speed and power emphasis as they head into their pre-competition training phase. 

*This training plan is an instant digital download backed by powerful administration tools that allow customization by inputting individual personal bests or goals to calculate training for both male and female athletes, accessed immediately after purchase on desktop and mobile devices.
Training Plan: This summer sprints training program was created to include detailed daily workout instruction to help with block starts, acceleration patterns, flight phase sprint mechanics and quality interval training that is essential to helping you have a strong finish in every race. Our sprints program is designed to encompass a base training cycle and in season programming from calendar lengths of 8 weeks in length.  Our detailed video instruction will take you step by step from warm up through cool down, showing you exactly what needs to be done in terms of proper block start positions, sprint mechanics, posture, foot strike and interval training.  To sprint fast... the details matter!

To Activate Training Plan(s): After checkout, you will be taken to an orders summary page where you will receive a link to activate the digital training plan(s) purchased. You will also receive an email that will direct you to the orders summary page to activate the digital training plan.  After clicking on the link to activate the plan, you will create a free Trackwired.com account.  This account will give you full access to the plan purchased as well as 1400+ track and field instructional training videos. The purchased plan will be loaded into your Trackwired "My Training Plans" tab.  From there you will be able to customize the digital training plan with a personal goal time and import into to your Trackwired training calendar.  The personalized training program will then be synced and available via both your desktop and mobile device, with specific interval training as well as step by step 30 second video instruction for every technical component of your training.